Product Description
Take your pellet grilling to the next level with the Black Label Series Pellet Grills from Louisiana Grills!
Operate From Anywhere!
The Black Label Series by Louisiana Grills is flavour redefined. It reimagines the original Louisiana Series Grill Line by including upscale designs and premium technology upgrades. Enjoy an intelligent digital control board with built-in WIFI and Bluetooth capability. Anything you can do on your digital control board can be done in the palm of your hand using a smartphone and the Louisiana Grills app.
Refined Design 
The Black Label Series also takes bold steps into the future with a robust, fully designed proprietary exhaust system. Welcome yourself to the upper echelon of grilling by reaching hotter grill temperatures at speeds faster than ever before. The Black Label Series provides a thoughtful, griller-focused experience that puts you in control of luxury outdoor cooking.
Cook Big!
With a slew of innovative accompaniments, the 800 Black Label Grill is the perfect grill to handle full course meals for 7-8 people. It delivers robust versatility in a family-sized package. Between 809 square inches of cooking space, a 180° to 600°F temperature range, and an 18-pound hopper, the LG800BL goes beyond the predictable large-sized grill. It also comes equipped with two full-functional programmable meat probes, an open and close slide-plate flame broiler lever for direct and indirect heat, porcelain-coated cooking grids, fan-forced convection airflow technology, one-touch auto-start grill ignition, and automatic start-up and cool down.
Protect Your Investment
Friendly Fires recommends purchasing a cover and a thermal blanket for your Black Label Series Pellet Grills. These both help protect and extend the longevity of your grill!
Key Features: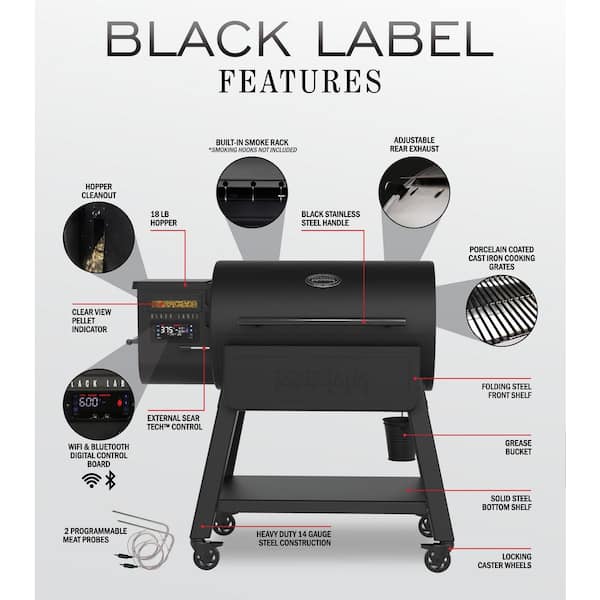 Noteworthy: